Health Center Work Authorized?
Construction at Elmont Health Center

The Civic received numerous phone calls today pertaining to construction occurring at the Elmont Health Center. Residents of Locustwood Estates, the neighborhood directly south of Belmont Park are furious.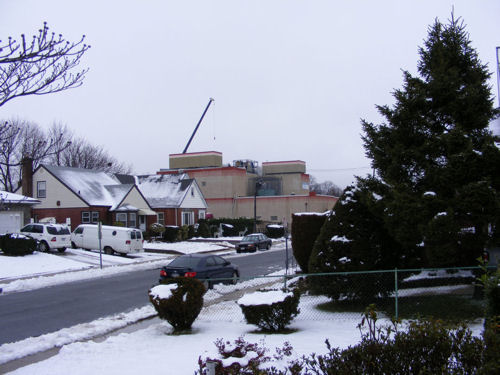 Despite the inclement weather, with snow and mixed rain, construction and work with machinery were taken place on Sunday, December 21, 2008. None of the neighbors were advised and the manner in that the work is being done have residents questioning whether it is authorized and whether proper safety precautions are being taken.
Many questions arose from this secret construction. Were Town Building Inspectors aware of the work, and was the roof integrity inspected to ensure the safety of the workers, and the future condition of the building?
As neighboring residents were not aware of this work, residents also question whether or not the Town Zoning Board were aware of this construction.


A view form the residential homes.

Crane and construction workers at the Elmont Health Center.
Workers creating a metal frame.
Workers with flame torches.

Phone calls to local officials pertaining to this manner have been unanswered.